Obsidian is my new favourite tool for notetaking and everything else.
For a long time my notes lived in Evernote or Notion, but they both are cloud based tools.
Obsidian simply works with textfiles in markdown on your local harddrive in a folder what is your Obsidian vault.
You have the controll over your data! You are the only one that has access to it and you can choose to upload your data to a cloud service you trust or self host.
Obsidian offers also a sync service and a publish service but these are optional.
Since the data is pretty lightweight due to markdown textfiles you can also simply sync / backup your vault with git. There is a nice plugin for this available what periodically syncs your vault.


The simple but big feature of Obsidian is, that you can link notes together with wiki links [[like this]]. This may seem simple but is very powerfull. Tags are also supported.
The coolest feature has to be the graph view, which visualize your linked notes.
There are many plugins available which make Obsidian more powerfull.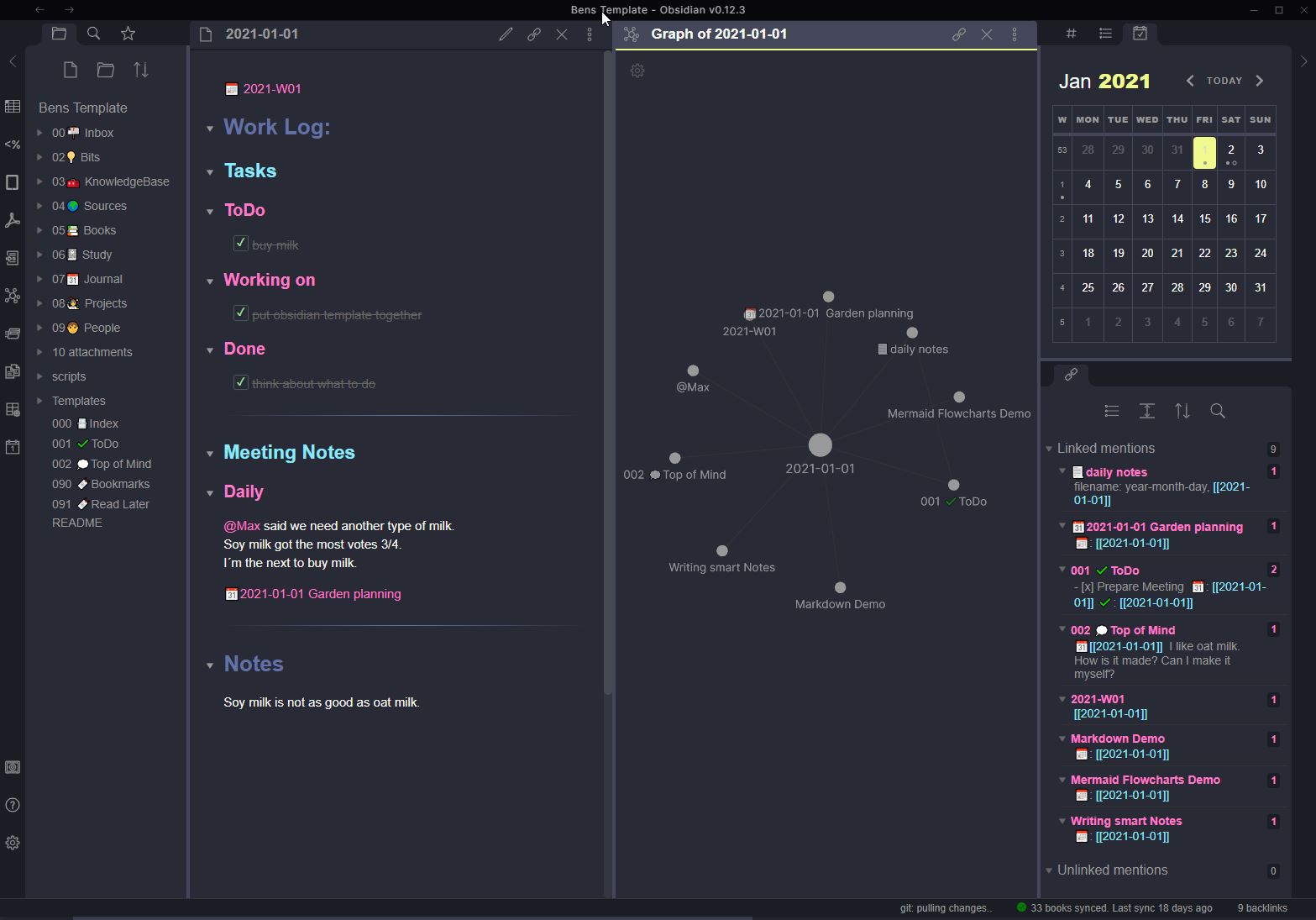 I use Obsidian as my personal knowledge management system to store all the things I know and I´m interested in.
My projects / todos also live within obsidian. In the last 3/4 year I used obsidian it really made me more productive and kept me up to date what´s going on.
Sometimes I tend to forgett things, but since I started wrtiting everything down in my daily notes, reviewing them weekly and summarize what was going on it keeps me on track and things don´t get left behind.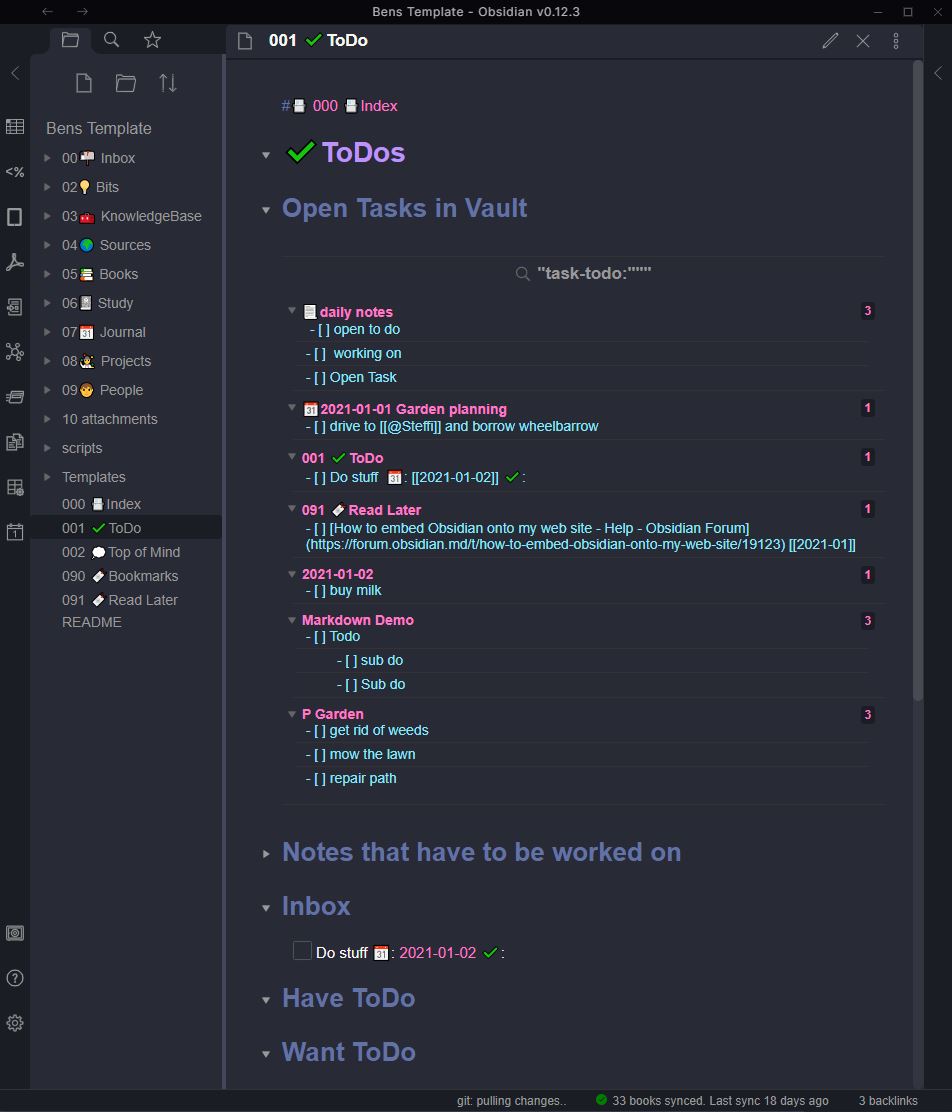 There is a nice community arround Obsidian / personal knowledge management / Zettelkasten and so on. You can easily fall in the research rabit hole. ;)
The Obsidian community should be mentioned here, in the forum or on discord. https://obsidian.md/community
Bryan Jenks https://www.youtube.com/c/BryanJenksTech and
Linking your Thinking https://www.youtube.com/channel/UC85D7ERwhke7wVqskV_DZUA are also worth a look.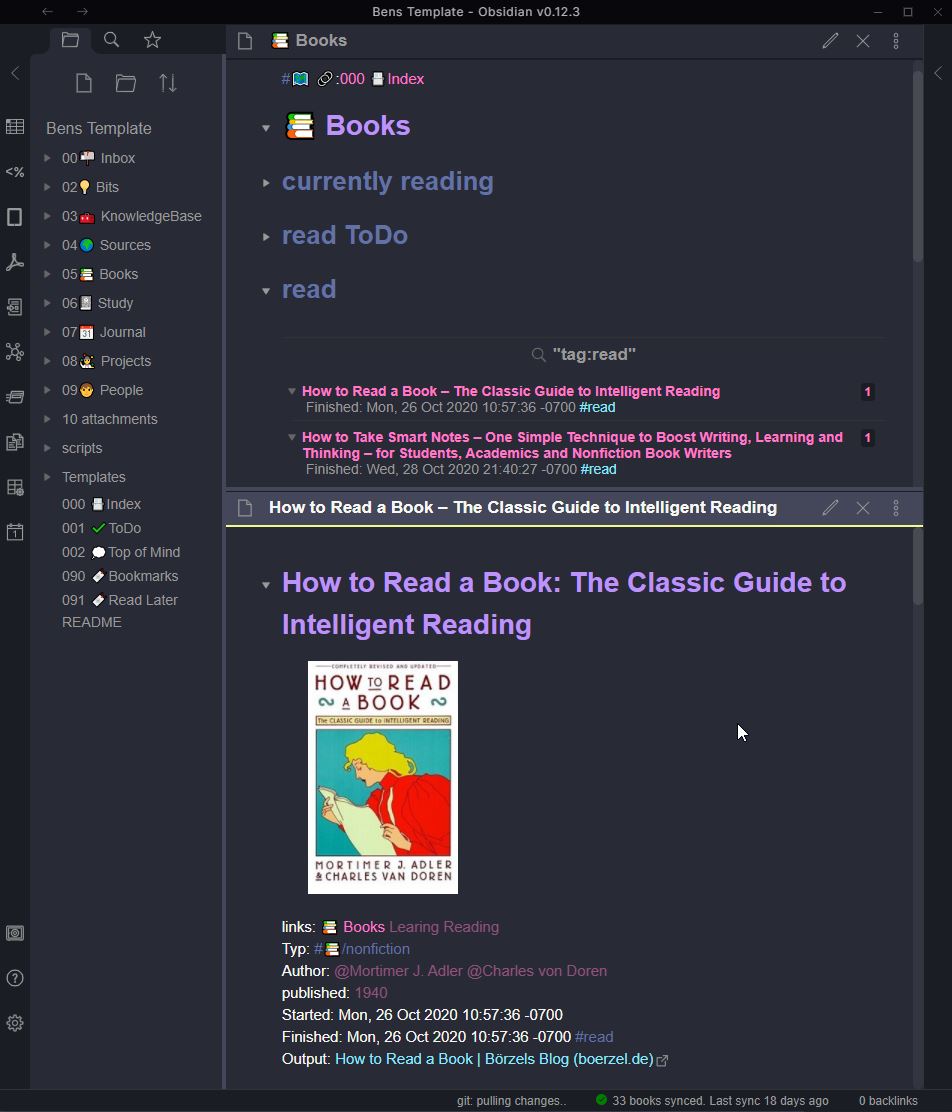 To get you started with obsidian, here I share my setup, how I manage my stuff. The best is to download the repository, open it up as a vault in Obsidian, open the README or Index file and click around.
https://github.com/bboerzel/Bens-Obsidian-Template

Let me know how you organize your notes and if pushed you into the obsidian / pkms / zettelkasten rabit hole! !
@boerzel on Twitter or sent me an email.